Grape Ice 10ml by Cambridge Labs Salt
If you're like me, always on the lookout for new and exciting vape flavors, then you're in for a treat. Today, I want to share my experience with a flavor that has truly captivated my taste buds: Grape Ice 10ml by Cambridge Labs Salt. Now, before we dive into the details, let me just say that I've had my fair share of grape-flavored e-liquids, but this one stands out from the crowd. Let me tell you why.
The Flavor :Grape Ice 10ml by Cambridge Labs Salt
When it comes to e-liquid flavors, finding the right balance is key. Grape Ice 10ml hits that sweet spot effortlessly. As you take your first inhale, you'll be greeted by the juicy, authentic taste of ripe grapes. It's not overly sweet or artificial, but rather a natural burst of fruity goodness. The flavor is well-rounded and doesn't overpower your senses, making it perfect for an all-day vape.
What sets Grape Ice 10ml apart is its refreshing icy twist. The cooling sensation is subtle yet invigorating, creating a delightful contrast to the grape flavor. It's like taking a sip of a chilled grape beverage on a hot summer's day. Trust me; it's an experience you won't soon forget.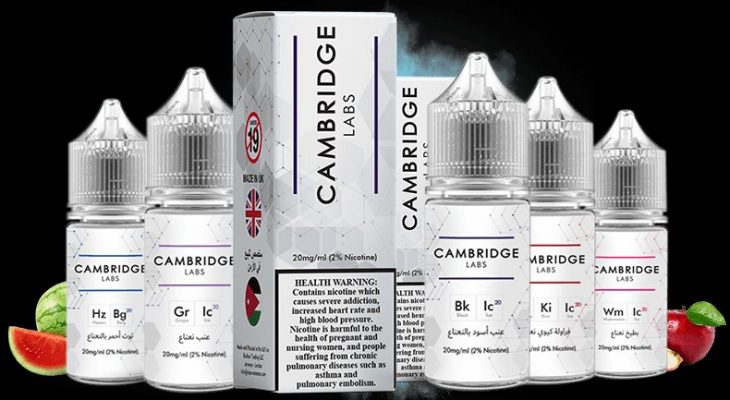 Smooth and Satisfying Vaping Experience
Now, let's talk about the vaping experience itself. Grape Ice 10ml by Cambridge Labs Salt is formulated with high-quality ingredients that ensure a smooth and satisfying vape every time. The nicotine salt formulation provides a gentle throat hit that is both satisfying and less harsh than traditional freebase nicotine e-liquids.
The 10ml bottle size is convenient and portable, making it easy to carry with you wherever you go. The dropper tip allows for precise and mess-free refills, ensuring you can enjoy your favorite flavor without any hassle.
Compatibility and Versatility
One of the great things about Grape Ice 10ml by Cambridge Labs Salt is its compatibility with a wide range of devices. Whether you prefer a refillable pod system, a vape pen, or a box mod, this e-liquid is suitable for various setups. I personally tried it with my trusty pod system, and the flavor and performance were top-notch. It's always a relief to find a flavor that works seamlessly with your favorite device.
Comparison to Other Grape E-Liquids
Now, you might be wondering how Grape Ice 10ml  by Cambridge Labs Salt compares to other grape-flavored e-liquids on the market. Well, I've tried my fair share of grape e-liquids, and I have to say, this one takes the crown. Some grape flavors I've encountered in the past were too sweet, almost syrupy, while others lacked that authentic grape taste altogether.
Grape Ice 10ml strikes the perfect balance, delivering a true grape flavor without overwhelming your taste buds.In terms of the icy twist, I've tried other menthol or cooling-infused e-liquids, but none of them have achieved the same level of finesse as Grape Ice 10ml by Cambridge Labs Salt The cooling effect here is just right, providing a refreshing sensation without overshadowing the grape flavor.
Pros:
Authentic and well-rounded grape flavor
Refreshing icy twist adds a delightful touch
Smooth and satisfying vaping experience
Cons:
Cooling effect might be too subtle for those who prefer a stronger menthol sensation
In conclusion, Grape Ice 10ml by Cambridge Labs Salt is a must-try for any grape flavor enthusiast. The balance of authentic grape taste and refreshing coolness is truly remarkable. The smooth vaping experience and compatibility with various devices make it even more appealing. While the cooling effect might be a bit milder for some