Introducing the Nord 50W Empty Pods by Smok, the ultimate vaping accessory that takes your vaping experience to new heights. Designed with precision and innovation, these empty pods offer a seamless and enjoyable vaping experience like no other. Say goodbye to ordinary vaping and step into the world of extraordinary flavor and convenience.
With the Nord 50W Empty Pods by Smok, you can indulge in a wide array of tantalizing flavors and create your own unique vaping blend. These pods are meticulously crafted to deliver intense, rich flavors that will tantalize your taste buds with every puff. Experience the true essence of your favorite e-liquids like never before, as each puff becomes a moment of sheer delight.
Not only do these empty pods provide an unparalleled flavor experience, but they also offer incredible convenience. The sleek and ergonomic design ensures a comfortable grip, allowing you to effortlessly carry and use your Nord 50W wherever you go. Whether you're on a thrilling adventure or simply enjoying a relaxing moment, this vaping companion is always by your side.
Nord 50W Empty Pods by Smok are made to last since they are constructed from the best materials. They are durable and long-lasting since they can resist the demands of daily use. Every time you vape, you can rely on these pods to perform incredibly well and provide dependable, delicious clouds of vapour.
Upgrade your vaping game and unlock a world of possibilities with the Nord 50W Empty Pods by Smok. Experience the perfect blend of flavor, convenience, and reliability, all in one remarkable vaping accessory. Don't settle for the ordinary; choose the extraordinary.
Get your Nord 50W Empty Pods by Smok today and elevate your vaping experience to new heights. Order now NO.1 products in the Vape Riyadh shop and embark on a journey of unparalleled flavor and satisfaction. It's time to indulge in the ultimate vaping pleasure!
Nord 50W Empty Pods by Smok Features:
Side Fill System – Silicone Stoppered
4mL nord 50W LP2 Pod
Compatible with the LP2 Coil Series
4.5mL nord 50W nord Pod
Compatible with the Nord Coil Series
Magnetic Pod Connection
Comes in a pack of three (3).
Make sure to properly prime each coils before use.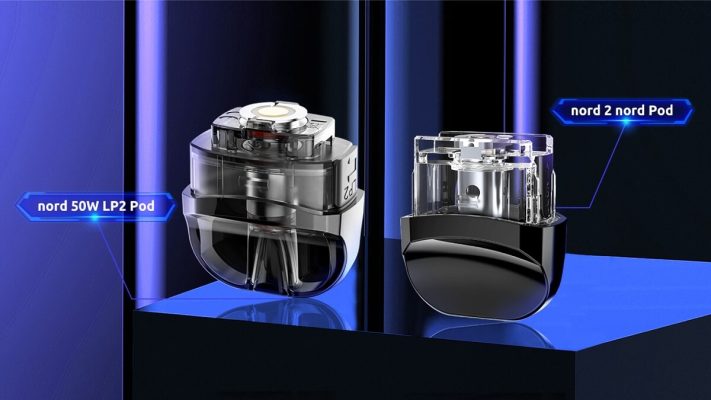 SMOK founded in 2010 is the leading brand of Shenzhen IVPS Technology Co Limited, which is professional in electronic cigarette research and development, production, and sales in all markets worldwide.
At the core of SMOK's philosophy is a passion for creating products that enhance the vaping experience. From beginner-friendly devices to advanced, high-performance mods, SMOK caters to vapers of all levels. With cutting-edge technology and a focus on user-friendly designs, SMOK products are built to exceed expectations.
One of the key strengths of SMOK is its diverse range of products. Whether you're looking for sleek pod systems, versatile starter kits, or powerful sub-ohm tanks, SMOK has you covered. Each product is carefully crafted with attention to detail, ensuring superior performance, durability, and style.
SMOK's commitment to innovation is evident in its continuous development of new technologies and features. From intelligent chipset systems to intuitive user interfaces, SMOK devices are packed with advanced functionalities that enhance the overall vaping experience. Whether it's temperature control, customizable settings, or safety features, SMOK devices offer versatility and control at your fingertips.
In addition to their exceptional devices, SMOK also offers a wide selection of premium coils, tanks, and accessories. These accessories are designed to complement SMOK devices, providing vapers with a seamless and enjoyable vaping journey.